This week's wardrobe inspired by . . .
I am feeling a little fashion schizophrenic this week. I might go uptown and simple . . .
. . .or I might stick with what has become The Uniform for me this season--this basic silhouette and some funky splashes of color (tights or shoes or gloves) on a more neutral backdrop.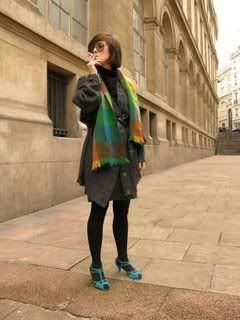 I suspect I will do both.
It occurs to me that the real underlying influence for The Uniform is my first important role model:
Dear dear Pippi, my childhood hero. I read every one of the Astrid Lindgren books over and over again. I saw the movies in the theaters and didn't even notice the insanely bad dubbing. I went as Pippi three Halloweens in a row. I named my first dog after her. And now apparently I dress like her.
I think I'm cool with that.
Labels: fashionista