This week's wardrobe inspired by . . .
I am feeling a casual vibe this week, probably because I spent the weekend hanging out in bars with bassists. I want to be a bit slouchy or in jeans or, apparently, in Paris.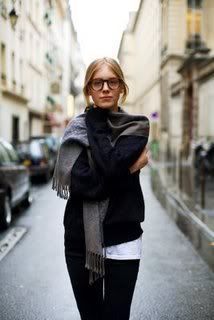 I also seem to be, judging from
last week
and this, obsessed with blue-green shoes.
I rarely wear jeans to school any more, only on the occasional day when I am not teaching and sometimes at the tail end of the semester. This week is full of important meetings, so I have not been at all casual, but I do have a menswear mixed with chunky baubles and girly bows and Paris cool thing happening. Though I could never be as cool as
Lou Doillon
.
Maybe
if I had the long-coveted rocker bangs. Or if I were French. Or the daughter of Jane Birken.
Labels: fashionista