This week's wardrobe inspired by . . .
I have written about my
Imaginary Perfect Haircut
before. I want it desperately, but it would not work with my thick crazy Medusa locks. In times of stress when fortitude and cool are needed, I walk around with my imaginary haircut (imaginarily) and thereby become a total bad ass.
The ubiquitous Agyness Deyn is currently rocking my Imaginary Perfect Haircut in REAL LIFE. I want to find her irritating, but I can't because a) she really rocks the IPH; and b) I ultimately think that underlying the current widespread irritation at Agyness Deyn is the lame and elitist and even more irritating kneejerk reaction against ubiquity itself. Oh, and if you had no idea who Agyness Deyn was before you read this paragraph: This is Agyness Deyn. She is a British model. She is ubiquitous! How did her ubiquity escape you?! OMG! Be irritated!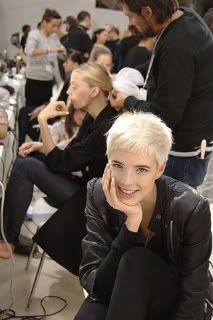 Labels: fashionista